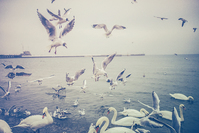 The Eastern Waves of Hope and Survival: A Story of Existential Migration (English)
Eliezar Evangelista
SYNOPSIS: This personal essay is narrated from an existentialist's perspective. Social mobility has been customary and became more accessible during the pre-pandemic era. While most Overseas Filipino Workers (OFWs) are perceived as valuable human resource to propel the Philippine economy through the money that they send back home to their families, there are few individuals who are searching for deeper meaning of their existence. There are stories kept and never written. There are unheard voices of fragile souls who chose to face their fears to search for their purpose. The narrator rekindled his old self, the soul who turned his backs from his past in the Philippines to find purpose in his life, grieve and renew his faith in the Land of the Rising Sun. He never knew what will happen in his existential journey but he sensed that something is going to happen. He was ready, if the need arises, that there might be no comeback.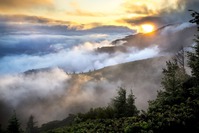 2020 nen no Bundan to Setsuzoku (Nihongo)

Yusuke Hidaka
SYNOPSIS: In 2020, the pandemic of the COVID-19 developed under the massive movement of people, things, money, and information. The "COVID-19 pandemic" for Japanese does not only mean contagion or economic loss, but also means being forced to confine themselves under the name of jishuku (self-restraint). Sharing these kinds of "violence" actualized "social distance," which had already underlain in society. On the other hand, the COVID-19 pandemic let us see hope for post-COVID-19 society. People's physical self-restraint has made their ways of thinking and acting slower. The COVID-19 pandemic let us recognize distance between self and others and enabled us to take a moment to stop and to ponder about other's situation. This implies the possibility that we can close social distance to others by taking time and building relationship with them. This is true not only of individuals but also of peoples or countries. Since time is irreversible, those who lost many things can't return the pre-COVID-19 society. Thus, we need to gradually move on to the post-COVID-19 society.
Ushinawareta Toshi (Nihongo)
Shingo Ito
SYNOPSIS: In November 2019, I started to study in the Philippines. In the end of the year, I enjoyed a festive mood with Filipinos, who were merry at Christmastide, never imaging that the novel corona virus would confuse the whole world and became a pressing crisis for me. After the new year began, the pandemic was about to throw people into confusion and changing their lives completely. In that very time, I came and went between the Philippines and Japan. I became conscious of the differences the Philippines and Japan about COVID-19. On March 12, the new virus, which used to be someone else's problem for me, appeared to me as my own crisis. Suddenly, the year of 2020 that I had looked forward to was lost. But it is not only me who is deprived of the year of 2020 by COVID-19. This essay overviews how a sense of crisis rose in both countries by reading back my diary and discusses what people have lost in 2020 and the meaning of the lost things.
Times Being What They Are (English)
Khatarina Martinez
SYNOPSIS: When the lockdown started, two sisters were forced to live together and abandon their lives in the city. To cope with the effects of quarantine, they built a dull routine which involved light exercise, food, telepathy, social media, work, and a tinge of hygiene. Their well-established routine is only disrupted when one of the sisters goes out to get tested for COVID-19. She converses with a tricycle driver on the way to the health facility and interacts briefly with the nurse attending to her. Her story takes a turn when the rapid test comes back positive.
Mula Japan Pabalik ng Pilipinas: Kuwentong Face Mask para sa mga Pasaway (Filipino)
Paul Serafica
SYNOPSIS: Three weeks before his original flight back home, he received a notification of his cancelled connecting flight via Hong Kong to Manila. This event alternated plans for a three-day stay in Fukuoka where the first confirmed COVID-19 case involving a resident of Kyushu was reported. This personal essay tackles on the narrative of a Filipino exchange student of Kagoshima University going back home to the Philippines during the starting peak of the COVID-19 Pandemic. From Fukuoka cityscapes back to his hometown in Rizal, he encounters an oblivious incident that opened his mind to a deeper discussion and understanding in gaining an objective viewpoint from how we use and consume face mask in this pandemic.
Diskaril (Filipino)
Beverly Siy
Diskaril is an essay written by a mother about her own mother who experienced arrest and detention during the COVID crisis. She will describe the mental and emotional exhaustion of the family while searching for their mother and how little to no help can be availed from the police. It also shows how a person's social media projection is completely different from her real life.